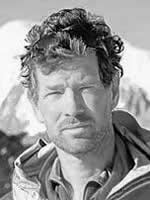 Prof.dr. M. Grocott
Anesthesioloog-intensivist
University of Southampton, Critical Care Research Area, Southampton
University of Southampton, Head of the Integrative Physiology and Critical Illness Group, Southampton
Verenigd Koninkrijk

Professor Mike Grocott (combineert zijn voorliefde voor alpinisme, anesthesiologie, Intensive care geneeskunde en research op onnavolgbare wijze. Als vraagstukken niet op zeenievau te onderzoeken zijn wordt het laboratorium simpelweg in het hooggebergte ingericht! De laatste twee research expedities leidden hem en zijn team naar de Mount Everest. Op de flanken, tot 8000 meter aan toe werden basale en translationele research gecombineerd met de beproevingen van het bedwingen van de berg zelf. Hypoxemie heeft op deze hoogte toch een andere dimensie zo blijkt
Met grote flair heeft Professor Mike Grocott al eerder buiten Nederland verhaald over zijn drijfveren maar ook over de organisatie van een dergelijke research expeditie. Rijkelijk geillustreerd en met veel opmerkelijke anecdotes gelardeeerd zal hij ons meenemen naar de top.
Mike Grocott is the Professor of Anaesthesia and Critical Care at the University of Southampton and consultant in Critical Care Medicine at University Hospital Southampton NHS Foundation Trust. He leads the Critical Care Research Area within the Southampton NIHR Respiratory Biomedical Research Unit and is head of the Integrative Physiology and Critical Illness Group at the University of Southampton. In 2011 he was awarded the British Oxygen Company Chair of the Royal College of Anaesthetists.

Mike co-founded the UCL Centre for Altitude Space and Extreme Environment Medicine (CASE) and was director from 2000-2011. Since 2006, he has been Director of the Xtreme Everest Hypoxia Research Consortium and chairs the executive board. Mike led the 2003 CASE Baruntse expedition, 2006 Xtreme Everest Cho Oyu expedition and the 2007 Caudwell Xtreme Everest Expedition and was one of the team who obtained blood gases near to the summit of Everest in 2007.
Mike is also Director of the NIAA Health Services Research Centre at the Royal College of Anaesthetists and Chair of the National Emergency Laparotomy Audit. He was previously Smith's Senior Lecturer in Critical Care Medicine at the UCL Institute of Child Health and Director of the Surgical Outcomes Research Centre at the UCLH-UCL NIHR Biomedical Research Centre.
His research interests include human responses to hypoxia, measuring and improving outcome following surgery, acute lung injury, and fluid therapy. He is co-chair of the KnO2wledge series of meetings and of the National Perioperative CPET meeting. Mike is also Joint Editor-in-Chief of the BioMedCentral journal "Extreme Physiology and Medicine" (www.extremephysiolmed.com) and has published more than 100 peer reviewed manuscripts.
Mike has been climbing and mountaineering for more than 30 years, has been on 11 high altitude expeditions to the Himalaya and South American Andes (6 as leader) and has extensive remote environment medical experience as medical officer and co-ordinating high altitude medical research projects. He has ascended over 5000m on more than 40 occasions with multiple ascents to, and ski descents from, over 6000m and two ascent of 8000m peaks (Cho Oyu, 8201m, 2006; Everest 8850m, 2007). He is a qualified UK Mountain Leader and is on the faculty of the UK UIAA diploma in Mountain Medicine.
Sessies van deze auteur
vrijdag 23 mei 2014 om 13:00 - 14:00

Professor Michaël Lecture
Prof.dr. M. Grocott